2019 Ram 1500 vs 2019 GMC Sierra
Posted on January 15, 2021
The Ram 1500 continues to be not only one of Canada's most popular pickup trucks; it's also one of the top-selling vehicles, outpacing sales of SUVs, coupes, sedans, and wagons. Coming to the market in late 2018 is the revised GMC Sierra 1500. While GMC has been fairly tight-lipped about releasing information about the new Sierra, there has been enough information made available to piece together a comparison between the 2019 Ram 1500 and the 2019 GMC Sierra 1500.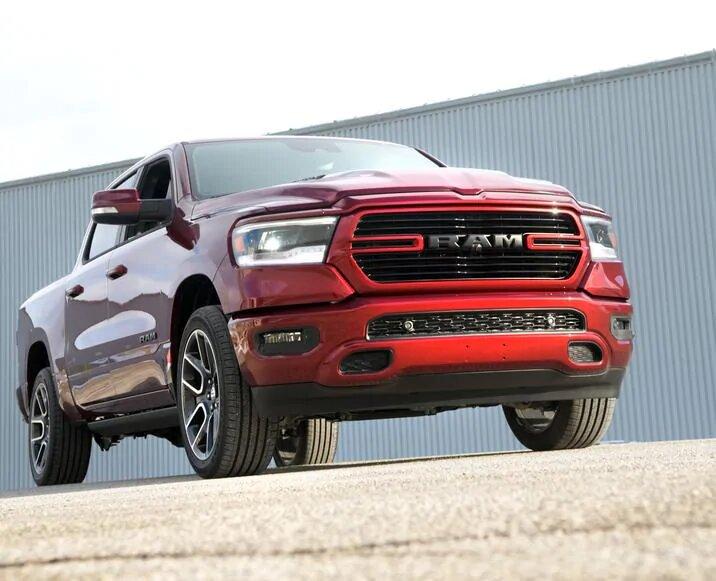 Choice of Engines
For 2019 the GMC Sierra will offer a 2.7L turbocharged four-cylinder engine replacing the 4.3L V6 EcoTec3. The 2.7L four cylinder develops 310 horsepower and 348 lb-ft of torque. By contrast the 2019 Ram 1500 features the 3.6L Pentastar V6 as its base, which is also Canada's best-selling engine. The 3.6L Pentastar produces 305 horsepower, and 359 lb-ft of torque with the eTorque system engaged.
Next up the line for the 2019 Sierra is the 5.3L Ecotech3 V8 that develops 355 horsepower and 383 lb-ft of torque, as compared to the Ram 1500's legendary 5.7L Hemi V8 that beats the Sierra in both power and torque, at 395 horsepower and 410 lb-ft of torque standard, or 540 lb-ft with eTorque. While GMC does offer a larger engine, 6.2L EcoTec3 V8, it accounts for only a small percent of the engines installed in the Sierra and is only available on a few specific models.
What's new with the 2019 GMC Sierra is that it finally joins the diesel club, with a 3.0L turbodiesel inline six, which is basically an extension of 2.8L four cylinder that's been available since 2015 as they share the most critical of al engine dimensions: bore and stroke. While the Ram turbodiesel is here today, the GMC turbodiesel, according to GMC, won't be available for nearly a year. No word yet on power, but it's unlikely the GMC will be far outside the horsepower and torque numbers of the already well-proven Ram 1500 3.0L V6 turbodiesel.
Both Ram and GMC provide an electronic assist program, a type of light hybrid that uses the alternator to charge a small battery. Power is then drawn from the battery with the alternator now operating as an electric motor providing a more responsive initial acceleration. Ram offers its eTorque system on both the 3.6L Pentastar V6 and the 5.7L Hemi, while GMC offers its system only on the 5.3L V8.
Smooth, Comfortable Ride
There's no mention in any of the materials released about the 2019 Sierra 1500 about changes in its rear suspension, which continues to utilize leaf springs, same as stage coaches and covered wagons. All versions of the 2WD Ram 1500 have long been recognized by truck reviewers and consumers alike as the smoothest riding of all pickup trucks, due largely to its more sophisticated rear suspension, which consists of a five-link configuration with track bar, progressive rate coil springs, a stabilizer bar, and twin-tube shock absorbers. Exclusive to the category is the optional air suspension which replaces the progressive rate coil springs and provides the capability to lower the Ram for cargo or passenger loading, have a close-to-the-highway setting to reduce aerodynamic drag, and a high setting for cross fields or traversing trails.

Passenger Space
The 2018 Ram Quad Cab rear passengers have some room in the 2018 Ram 1500 with more legroom, hip room, and head room that the 2018 GMC Sierra Double Cab. There's no mention in any of the GMC materials released to date about increased rear passenger space in the 2019. They do mention that in the Crew Cab model, rear seat legroom with be increased by three inches, which still falls short of the rear seat legroom in the 2019 Ram 1500 Crew Cab.
Connectivity
One thing that is certain of the 2019 GMC Sierra 1500 Denali is that their GMC IntelliLink infotainment system only has an 8-inch screen. That's not even close to the 2019 Ram 1500, which is available with a 12-inch Uconnect reconfigurable touchscreen. In addition, GMC if offering a rear view system that replaces the usual glass inside rear view mirror with a video display. The Ram 1500 continues to offer an in-dash back-up camera function and still provides the traditional rearview mirror to provide the driver two different points-of-view when backing.
Rear Tailgate
GMC is touting its MultiPro tailgate that can be opened in a variety of configurations, with six separate functions. If your pickup is a work truck, you know that the part that takes the most abuse is the tailgate. As it's not yet available to the public there's no feedback of how the MultiPro will operate in real-world conditions. If it's access you want, and you don't want to deal with a bunch of latches and hinges, the Ram 1500 with optional air suspension the entire pickup can be lowered with just a switch to a bed height of only 32.7 inches.
While there's still a lot about the 2019 GMC Sierra 1500 that we don't know, automakers typically use the most exciting features to a tease a new model. It's entirely likely that beyond the information gleaned so far there may be little else that truly separates the 2019 Sierra 1500 from other brands. If you're looking for a sturdy, dependable, proven pickup that's one of the most driven in Canada, then you needn't wait for the 2019 Sierra. Come into CarHub today and check out our selection of award-wining Ram 1500 pickups, one of which will certainly be ideal for your needs.