Difference Between The 2018 Jeep Cherokee And Grand Cherokee?
Posted on January 19, 2021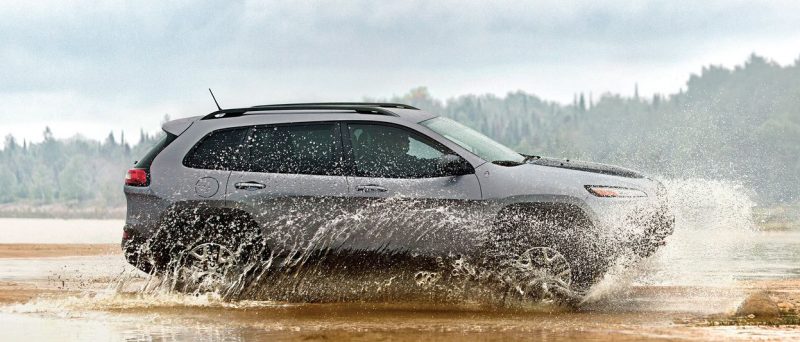 While the simple answer is that the 2018 Jeep Grand Cherokee is larger than the 2018 Jeep Cherokee might be a simple answer, the reality is that the differences are much more complex and are present in almost every system of the two Jeep SUVs. The best place to look is under the skin:
Engines
The 2018 Jeep Cherokee is available with one of two engines: the 2.4 L Tigershark four-cylinder unit that features four valves per cylinder, and Multiair sequential, multiport fuel injection develops 137 kW of power and 234 Nm of torque. The upgrade is the 3.2 L Pentastar, Canada's most popular engine based on sales. It's a 60-degree V6 with DOHC and 24 valves with sequential multiport fuel injection.  Power is rated at 199 kW with peak torque measured at 316 Nm and is standard in the best-in-class Trailhawk 4x4.
The base trims of the 2018 Grand Cherokee are fitted with the same, but it only goes up from there. A 3.2 L Pentastar engine. Next up the line is the 5.7 L Hemi V8 with a sturdy iron block and lightweight aluminum heads. The 5.7 Hemi develops 268 kW of power and peak torque of 520 Nm. There's also a 3.0 L six cylinder EcoDiesel available in a 60-degree V configuration. It features chain-driven DOHC with 24 valves. Power is 179kW and a tremendous peak torque of 569 Nm that comes in at just 2000 rpm.
The SRT model is equipped with a 392 CID Hemi engine that delivers 354 kW and 637 Nm, while the grand Cherokee Trackhawk tops them all with its 6.2 L supercharged Hemi V8 that delivers a remarkable 527 kW of power and a peak torque reading of 875 Nm. That's a range of nearly 400 kW from the Cherokee's 2.4 L Tigershark engine to the mighty Trackhawk 5.7 supercharged V8.
Drivetrain
The 2018 features the 948TE nine-speed automatic transmission in all versions feeding the choice of one of three 4WD systems: Jeep Active Drive I, Jeep Active Drive II, and Jeep Active Drive Lock. All these systems provide fully disconnecting 4x2 mode with automatic 4x4 engagement. On Active II and Drive Lock there is a Low and Neutral range.
Standard on models equipped with the 3.6 L, 5.7 L, 6.4 L petrol engines and the 3.0 L diesel engine are all mated to the sophisticated Torqueflite 8HP70 eight-speed overdrive transmission with paddle shifters and an electronically-modulated torque converter. The Trackhawk is fitted with an upgraded 8HP95 Torqueflite that features adaptive electronic control with driver-interactive manual control via seven available drive modes including: Auto, Sport, Track, Snow, Tow, Eco and Valet.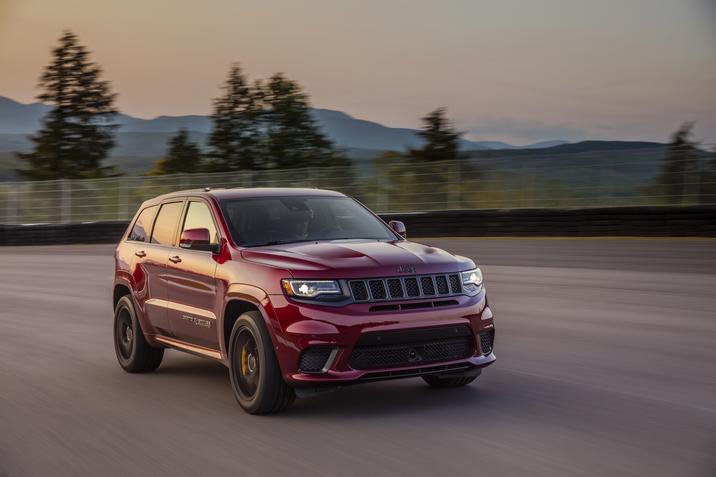 Four-Wheel Drive
The 2018 Jeep Cherokee offers three different available 4WD systems. First is the Jeep Active Drive I 4x4 System that features a rear axle disconnect feature that only engages when necessary for improved traction. The available Jeep Active Drive II 4x4 System includes all the features of the Jeep Active Drive I 4x4 System and adds a low range and Neutral Mode for added capability. The Jeep Active Drive Lock 4x4 System includes a mechanical locking rear axle and adds a Selec-Terrain Traction Management Rock Mode.
The 3.6 L powered Grand Cherokee is available with a full-time 4WD system with a 50/50 torque split. Standard on the 6.4 L engine is a full-time 4WD system with variable torque split ranging from 40/60 Auto, 50/50 Snow and Tow, 35/65 Sport and 30/70 Track. Optional on the 3.6 L. 5.7 L, and 3.0 l diesel is a full-time active 4WD system with a two-speed electronically-controlled transfer case that provides a 4x4 low setting. The Trackhawk features a unique transfer case that provides full-time four-wheel drive with variable torque split of 40/60 Auto, 50/50 Snow, 60/40 Tow, 35/65 Sport and 30/70 Track.
Of course, there's much more to the Jeep Cherokee and Grand Cherokee than its capabilities. Both feature a state-of-the-art suite of active and passive safety features, the class-leading Uconnect infotainment and navigation system, Apple CarPlay and Android Auto connectivity, and dozens of more features.
If you're interested in comparing the 2018 Jeep Cherokee to the 2018 Jeep Grand Cherokee its best to come in and talk to the Jeep experts at CarHub.