How Does Uconnect System Work?
Posted on July 21, 2021
The Stellantis group of vehicles sure do have a lot to boast about. In fact, they have so much to boast about that sometimes one of the most interesting features within its vehicles gets glazed over in the list of features. That's why today we're going to devote some time to discuss one of the features of the Stellantis vehicles that make them some of the most accessible, user-friendly, and tech-friendly devices in any market, let alone the automotive world. 
What is Uconnect?
The unsung hero of the Stellantis world is the multimedia system that all of the Stellantis brands come equipped with. Uconnect is the brain that syncs the Bluetooth connectivity, entertainment, climate, and navigation functions and allows them all to be accessible from the middle console touchscreen. 
What does it do?
Uconnect is what allows these systems to be integrated into your daily drive routine. You'll be able to make hands-free phone calls and texts, ask for directions and do all the fun stuff too, like call up your favourite tunes on your streaming service. If you've allowed the service, Uconnect is also where you'll turn to if you want to turn on your vehicle's wifi hotspot so your passengers can peruse the internet or get some work done on their ride. 
Does my vehicle have Uconnect access?
The answer to this question is dependent on your choice of vehicle! Here at CarHub we often have customers approach us to ask us if their vehicle can be equipped with a Uconnect system. As a licensed Stellantis dealer the answer to that question is often yes - but not always. If you want to take advantage of an award-winning integration system that allows easy-to-use access to all of your text messages and infotainment, you'll have to make sure that you're driving a Stellantis-brand vehicle, namely Dodge, RAM, Jeep, Chrysler, and FIAT. As we often like to joke, what does a 2021 Jeep Wrangler have in common with a 2021 Chrysler Pacifica? The answer, of course, is the Uconnect system! 
What size screen does is Uconnect compatible with?
The size of the screen that you use to operate your Uconnect system is dependent on the vehicle that you are in. Some of the CarHub favourites, such as the 2021 Chrysler Pacifica and the 2021 RAM 1500 will feature anything from an 8.4-inch to a 12-inch screen. 
How do I receive text messages on my Uconnect?
There is nothing more important in your vehicle than safety. And remaining hands-free with your devices is a great way to maintain the health and safety of yourself and your passengers. Studies have shown that distracted driving can be more lethal than driving while intoxicated and nothing is more distracting than texting while driving. There's a solution, however, in the form of Apple CarPlay and Android Auto, both of which will allow for a hands-free driving experience and will (likely) be compatible with your phone of choice.  Uconnect is what allows Apple CarPlay and Android Auto to be integrated into your daily drive routine. You'll be able to make hands-free phone calls and texts once Uconnect allows these systems to integrate with your vehicle - so you can chat and text without ever taking your eyes off of the road. 
How do I set up my Uconnect Account?
One thing that all of our customers rave about is the ease of setup with Uconnect accounts. What you'll want to do is fire up your vehicle and take a look at your infotainment centre. At the bottom center of your screen, you'll see a button marked Uconnect Apps. Press it and it will guide you through the setup steps. If for some reason it doesn't take you through the setup navigation, you can select Register by Web and set up via this method! 
How Do I Connect to Uconnect?
If you're going to take advantage of the amazing hands-free capabilities of the Uconnect system, you're going to need to connect your device to the system. With Uconnect the process is made easy. Press your vehicle's Uconnect button and it will offer a voice prompt. When it does, say 'setup' and when you are guided to the next step, say 'phone pairing'. When you are guided to the next step say 'pair a phone' and enter the four digit PIN number for your Uconnect system. You can find your PIN in your car's manual if you've forgotten what it was. Say 'yes' to confirm your PIN and then you're off to the races! 
How Do I Add Apps to Uconnect?
We get this question a lot: how do I add an app to my Uconnect? The answer is that you do it in much the same way that you would on your phone. You open up the Google Play store or App Store, dependent on which system you are choosing to use and you search the app list for your app of choice. Download it and you're good to go! Conversely, you can access apps via your device and pull them up on your infotainment screen using Uconnect. 
Is there a Uconnect app?
There sure is! What you're going to want to do is visit the App Store or Google Play on your device and download the Uconnect App, Choose Go Services from the app, and fill in the details of your Uconnect account. Once you're logged in, you can unlock the power of Uconnect with the convenience of your phone. 
Once you have the app on your phone and you're fully set up, you'll be able to access features such as remote vehicle start, remote locking, and unlocking, vehicle finder (for those days that you just can't remember where you parked) and Send n' Go, which allows you to access destinations from your vehicle's touchscreen.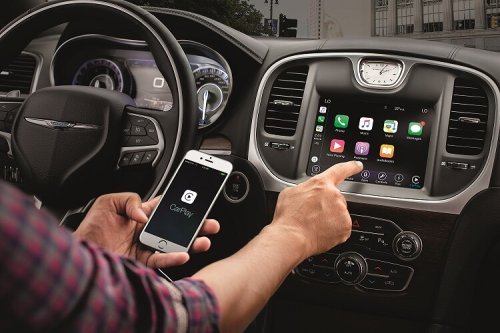 How do I get behind the wheel of a car with Uconnect today?
Interested in checking out what a Uconnect system can do? That's a request that can be easily granted! All that you have to do is book an appointment at CarHub.ca or stop in at one of our locations to speak with a friendly and knowledgeable Product Advisor about our incredible inventory of Uconnect-equipped, Stellantis vehicles today.